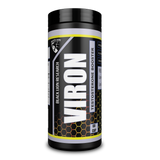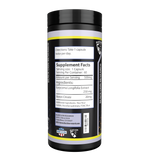 Viron
Testosterone is the king of male hormones and is well known for its ability to increase muscle mass, strength and sex drive. The key ingredients in Viron have been researched for decades and proven to crank up your testosterone levels. Great solo or as part of a Black Lion Research stack. When its time to kick things into a higher gear. Viron.
=
Good stuff
Have been using 2 weeks and havhe increased libido and energy
100% works
My labs confirm test levels doubled in 3 weeks. 5 thumbs up.
Test is best
Really good test booster. I stack with Rebirth.
Impeccable
Powerful I stacked it with Rebirth (Morning Caps for V and Evening Caps for R). Its effects are fast.
It also helps to give more dynamism.
Perfect !
Great Product,
Black Lion Research is a Great Company to buy from and work with. I have been taking Viron for several months now!! And This Product really works, lowering my SBGH and raising both my Free T and Overall T.
Highly recommend this Company
SUPREME MAN POWER
Testosterone is well known for its ability to increase muscle mass, libido, strength and all things male. Viron is a powerful blend of proven ingredients that can help kick testosterone levels into high gear. Viron is great alone or as part of a stack.
THE SCIENCE BEHIND AMAZING RESULTS

PREMIUM INGREDIENT
Expertly Sourced, clinically dosed

INNOVATIVE FORMULATIONS
Cutting edge ingredients

CLINICALLY DOSED
Effective ingredients
LAB TESTED
Confidence in your supplement
MADE IN THE USA
All products are manufactured in the USA

BIOAVAILABILITY ENHANCED
Absorption enhanced for maximum effects
REAL REVIEWS BY REAL CUSTOMERS