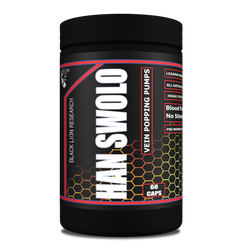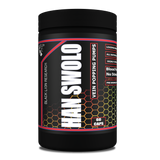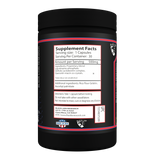 Han Swolo
The purpose of a pre workout supplement is to improve performance but these days pre workout products have become nothing more than massive stimulant bombs. This constricts blood vessels and prevents blood, oxygen and nutrients from reaching the muscles at the most crucial time. Han Swolo has no stimulants. Instead it is full of ingredients that inflate your blood vessels to the absolute max which helps deliver needed nutrients for growth and oxygen for performance and strength. Han Swolo delivers performance enhancement not over stimulation. Shirt tearing, vein popping pumps.
=
Ill never go back
I didnt realize how bad all the caffeine based pre workout supps were until I tried Han Swolo. There is a real noticeable increase in strength
and the pumps are out of this world. Its like I never had a pump before. Highly recommend.
This 1 product has caused me to try all of the Black Lion Research products.
Best Pre?
One of the most potent supplements Ive used. no stim is a bonus.
Lowkey GOAT
This just might be the best no stim pre there is. Shockingly good.
20/10
Never felt pumps like this. Strongest pre i have ysed.
Best pump out there
Lives up to the name, super stackable
NON STIMULANT PRE WORKOUT
Han Swolo is a mix of ultra strong vasodilators to help deliver blood and nutrients to the muscles. None of the jitters and crash of most pre workout supplements with all of the performance enhancement. Massive pumps, strength and endurance.
THE SCIENCE BEHIND AMAZING RESULTS

PREMIUM INGREDIENT
Expertly Sourced, clinically dosed

INNOVATIVE FORMULATIONS
Cutting edge ingredients

CLINICALLY DOSED
Effective ingredients
LAB TESTED
Confidence in your supplement
MADE IN THE USA
All products are manufactured in the USA

BIOAVAILABILITY ENHANCED
Absorption enhanced for maximum effects
REAL REVIEWS BY REAL CUSTOMERS