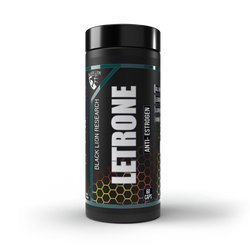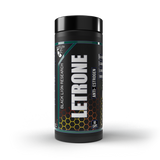 Letrone 2
This is the new updated version of our number one AI. Stronger and with added ingredients for absorption. Letrone is a powerful over the counter anti estrogen. This can be employed when estrogen levels are out of control and require management. Letrone is also great pre contest as it helps reduce water and fat retention due to estrogen giving the user a hard dry appearance.
=
Love this one
Got some labs done and can confirm my estro has dropped from 90 to 27 which is insane. Potent stuff.
Went back and bought 4 more for stash.
Very potent AI
After 4 days of taking two caps a day, I started getting achy joints and so dropped the dosage to one cap a day. Feeling very dry and solid strength increases, which wasn't expected. Great product and a super value.
Great product!
Really good addition to my cutting stack. I did Follidrone, Exotherm and Letrone. Im in the best shape I have ever been. Excited for this summer!
Cant deny it
Weight staying the same, strength and muscle up. at 4 weeks.
Want to get peeled
This new Letrone is potent as F! I have used Letrone on and off for years and its always been good. This upgraded one though.....I dont know exactly what they did but its much stronger. Before it helped with managing my estrogen levels but this one seems to be adding muscle mass and strength.
My new staple for sure. Hhighly suggest,
Incinerate estrogen
Natural, potent, effective anti estrogen.
THE SCIENCE BEHIND AMAZING RESULTS

PREMIUM INGREDIENT
Expertly Sourced, clinically dosed

INNOVATIVE FORMULATIONS
Cutting edge ingredients

CLINICALLY DOSED
Effective ingredients
LAB TESTED
Confidence in your supplement
MADE IN THE USA
All products are manufactured in the USA

BIOAVAILABILITY ENHANCED
Absorption enhanced for maximum effects
REAL REVIEWS BY REAL CUSTOMERS