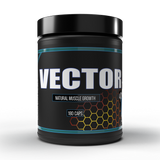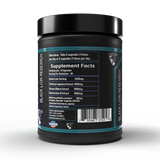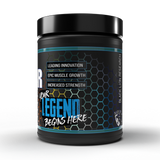 Vector 2
Building muscle and strength can be difficult. Studies indicate that the ingredients in Vector can lead to increased muscle mass and strength gains. Vector does this by increasing MTOR which is a positive regulator of muscle growth. In addition Vector increases other anabolic growth factors such as IGF-1 and reduces muscle wasting factors such as Atrogin 1. Vector also contains multiple potent fat burning agents to help you stay lean while growing muscle mass. Finally Ingredients in Vector have been shown to work similar to doping agents used in sports to increase performance making this one of the most powerful natural supplements available.
Vector also features our trademarked BioX bioavailability complex to increase the power of the active ingredients. If your goal is to build muscle and increase strength and performance Vector is the key to your success.

=
Enjoy the effects.
Really enjoying Vector. I had hoped for some benefit but this has really been more than expected. One thing is I am REALLY hungry!! This has helped me eat more and the muscle mass and strenght gains have been more than Ive seen in the last 2 years combined.
In 6 weeks so far. I wish there were more supplements like this around.
BOOM
Best mass building supp I have used
Hard gainer
If you are a hard gainer this is the supplement for you. Ive struggled to add weight for years but Vector seems to really help me grow. 4 weeks and I gained 8lbs. I spoke to a black lion research rep and he was super cool.
Helped me dial in my diet even. These guys are the real deal. They need more people to know who they are. Support them so we can see more of this.
Impressed
Consider me impressed. How this got better I dont know but its impressive
Version 2 is insane
I heard they upgraded this product and had to try it. After seeing really good results from version 1 I was curious to see how an UPGRADED version would work. Vector 2 doesn't disappoint! Ive gained 12lbs since starting 6 weeks ago and my strength is through the roof.
Very solid upgrade.
MUSCLE GROWTH
PRIMARY PRODUCT USE= BULKING/ MUSCLE MASS
We all want to gain muscle and lose fat but this can be a long and difficult road. You need an edge. Something that can help you gain muscle faster and lose bodyfat faster. Something that can improve your performance in the gym and add to your strength. Vector is the top dog when it comes to muscle building supplements. Vector works great solo or even better as part of one of our stacks. Vector contains 3 unique extracts each of which has multiple active chemicals within them. Together these make up the strongest natural muscle building supplement available.
Used by natural bodybuilding champions, Professional mma fighters and athletes of many disciplines, Vector is the tool of champions.
THE SCIENCE BEHIND AMAZING RESULTS

PREMIUM INGREDIENT
Expertly Sourced, clinically dosed

INNOVATIVE FORMULATIONS
Cutting edge ingredients

CLINICALLY DOSED
Effective ingredients
LAB TESTED
Confidence in your supplement
MADE IN THE USA
All products are manufactured in the USA

BIOAVAILABILITY ENHANCED
Absorption enhanced for maximum effects
REAL REVIEWS BY REAL CUSTOMERS