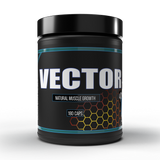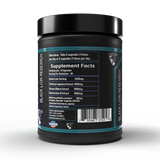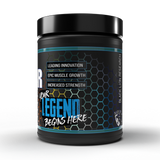 Vector 2
Building muscle and strength can be difficult. Studies indicate that the ingredients in Vector can lead to increased muscle mass and strength gains. Vector does this by increasing MTOR which is a positive regulator of muscle growth. In addition Vector increases other anabolic growth factors such as IGF-1 and reduces muscle wasting factors such as Atrogin 1. Vector also contains multiple potent fat burning agents to help you stay lean while growing muscle mass. Finally Ingredients in Vector have been shown to work similar to doping agents used in sports to increase performance making this one of the most powerful natural supplements available.
Vector also features our trademarked BioX bioavailability complex to increase the power of the active ingredients. If your goal is to build muscle and increase strength and performance Vector is the key to your success.

=
Good mass builder
Gained a good amount of size from this supplement. Strength was good as well. Really gotta eat alot to keep up with the gains,
Nothing to lose, why not get it?
BLR has been great with their research and care towards their products. Its officially been one month since I've started vector 2. I haven't noticed any feelings like some of the other reviews had, however I did notice slightly more fullness in muscle (hitting hard 6 days a week). I can say that after researching, even if it doesn't have insane effects for some, it still has pretty beneficial ingredients if you want it as a supplement overall; so why not get it? I just got me the rest of the anabolic mass stack so I'll see if I notice any other crazy gains. Thanks BLR!
Great product
Great product After taking this product I've noticed an increase in energy and strength in my workouts. I've even stopped taking preworkout because I no longer need it after taking this for a couple of weeks now. Definitely recommend it.
Vector in on gains
Vector is fantastic. I am very happy with the results at week 3. Visibly larger, more muscle fullness, increased my lifts and it doesnt seem to be slowing down.
As expected
I was ecstatic about the effects of version 1. Have not been on version 2 long and already seen great things. BLACKLION does it again.
MUSCLE GROWTH
PRIMARY PRODUCT USE= BULKING/ MUSCLE MASS
We all want to gain muscle and lose fat but this can be a long and difficult road. You need an edge. Something that can help you gain muscle faster and lose bodyfat faster. Something that can improve your performance in the gym and add to your strength. Vector is the top dog when it comes to muscle building supplements. Vector works great solo or even better as part of one of our stacks. Vector contains 3 unique extracts each of which has multiple active chemicals within them. Together these make up the strongest natural muscle building supplement available.
Used by natural bodybuilding champions, Professional mma fighters and athletes of many disciplines, Vector is the tool of champions.
THE SCIENCE BEHIND AMAZING RESULTS

PREMIUM INGREDIENT
Expertly Sourced, clinically dosed

INNOVATIVE FORMULATIONS
Cutting edge ingredients

CLINICALLY DOSED
Effective ingredients
LAB TESTED
Confidence in your supplement
MADE IN THE USA
All products are manufactured in the USA

BIOAVAILABILITY ENHANCED
Absorption enhanced for maximum effects
REAL REVIEWS BY REAL CUSTOMERS